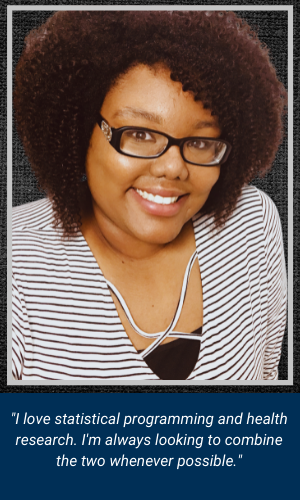 My official title is a Data Scientist at the Prostate Cancer Clinical Trials Consortium (PCCTC) at the Memorial Sloan Kettering Cancer Center. I mostly use R to do daily data/programming/automation tasks to support Prostate Cancer research. I'm learning new things every day and always striving to further sharpen my data science and programming skills. My health research interest lies in mental and primary health care integration. My technical interest lies in automating data pipelines, data visualizations, and various user applications for data dissemination.

In the past, I've worked for various government and public health entities and completed field training/internships in community mental health clinics and mental health research labs. I've had my share of working with various non-profit youth, educational, and social health clients as an evaluator as well. I'm an advocate for using mixed methods and automated data processing when possible and encourage the use of open-source responsibly. I plan to use this platform to share and collaborate with others on this professional journey.

When I'm not working, I love to play video games, create art (especially rtistry), travel and spend time with my son, my Patterdale terrier, Patches, and my husband.